Investment Tutorials: Learning Capital Flow Analysis: and Investment Theory
Analysis of Federal Reserve Flow of Funds Accounts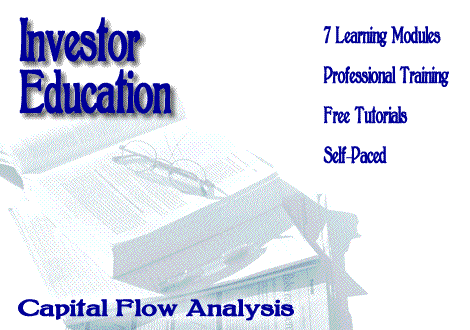 The Federal Reserve national flow of funds accounts have data that reveals money flows that drive stock and bond prices.
This site helps you learn Capital Flow Analysis methods to interpret this data and predict market turns.
A commonsense technique.

No advanced math.

Self-paced learning.

Free tutorials.

An open program; no registration.
This site has extensive educational resources that teach the techniques of Capital Flow Analysis.
These courses are free, but mastering the subject takes time. The training modules comprise 112 pages, with 158,000 words. Reading takes from 11 to 18 hours.
The payoff is an enhanced ability to understand and predict market trends.
Start With The Short Course
The best place to start learning Capital Flow Analysis is the six minute overview of Capital Flow Analysis presented in this one-page introduction:
This will gives you an idea of the principles of Capital Flow Analysis.
Next, learn how Federal Reserve flow of funds accounts provide the 'big picture' on the players and instruments that make up the U.S. capital market, in this two-page summary:
You can cover these two introductory modules in less than thirty minutes.
For Professional Competence, Take The Full Course
To become an expert in Capital Flow Analysis, you should complete all the training modules. You can do this at your own pace.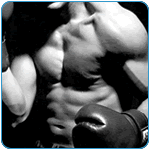 Go the full course for competitive advantage and enhanced predictive skills
For professionals and serious investors, knowledge of Capital Flow Analysis gives an edge over those who still believe that market risk is systemic and unexplainable.
However, this knowledge cannot be had without effort.
The Training Modules Summarized
Here is a summary of the seven training modules.
Click on the icons to start learning Capital Flow Analysis.
The Learning Modules: Capital Flow Analysis

CFA in a Nutshell: A quick overview of the method and how it helps you manage your portfolio.

4 to 6 minutes

850 words. 1 page

The Big Picture: A top level explanation of how flow of funds accounts portray supply and demand in the U.S. capital market.

15 to 23 min.

2,000 words. 2 pages

CFA: The Basics: The fundamentals of Capital Flow Analysis explained in simple terms.

1 to 1:40 hrs.

15,400 words. 10 pages

CFA: The Themes: Recurring historical, sociological, and demographic themes that are relevant to Capital Flow Analysis

3:21 to 5:40 hrs.

52,300 words. 26 pages

CFA: The Steps: A hand-holding tutorial that leads you, step by step, using resources on this site, through the process of Capital Flow Analysis

5:24 to 9:09 hrs.

76,700 words. 63 pages

Reading The Tables: An explanation of how to use the color-coded flow of funds accounts published on this site.

15 to 23 min.

3,500 words. 4 pages

Equity Values: A description of some metrics used to judge the reasonableness of equity prices.

31 to 49 min.

6,900 words. 6 pages