Capital Flow Analysis: Investment Tutorials and Investment Research Resources
Flow of Funds Analysis: Education, Investment Theory, and Technical Support
Federal Reserve National Flow of Funds Accounts: Investors, Issuers, Intermediaries, Securities, and Statistics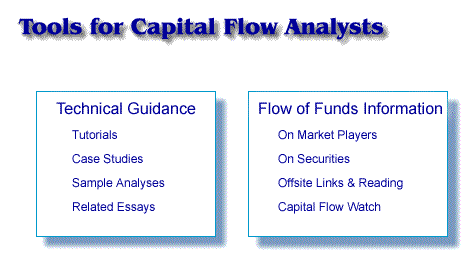 Capital Flow Analysis: Information and Training
Federal Reserve national flow of funds accounts are made up of thousands of data series, spanning half a century. This information is used in Capital Flow Analysis.
Capital Flow Analysis focuses on forecasting security price trends
Capital Flow Analysis, a specialized application of national flow of funds accounts, focuses on predicting price trends in securities markets.
When using flow of funds accounts, is not hard to get lost in reams of data and miss patterns essential for market timing and asset allocation.
This site is designed to make the analyst's job much easier.
Making Capital Flow Analysis Efficient
This data on this site is presented so as to make Capital Flow Analysis simpler:
A Well-Organized Desktop: The flow of funds tables on this site are selected for relevance to security price trends. Tables are color-coded and critical data stands out.

The design of site navegation allows analysts to flip from table to table, checking who is buying or selling each class of securities, tracing where funds for purchases originate and what is done with the proceeds.

The analyst who needs to go off-site for data published since the Federal Reserve quarterly statistics has links directly at hand on each flow of funds table.

Technical Guidance As Needed: An application of behavioral economics, Capital Flow Analysis goes beyond traditional methods; market practitioners are often unaware of the technique.

So that investors and portfolio managers know how to use national flow of funds accounts to predict market trends, this site has tutorials, case studies, sample analyses, and a weblog.
A Quick Start in Capital Flow Analysis
To learn how to use national flow of funds accounts and to forecast market trends, start with these training modules:
Reading flow of funds tables:

Practical Capital Flow Analysis: