Capital Market Players: Investors, Issuers, and Market Intermediaries
Federal Reserve National Flow of Funds Accounts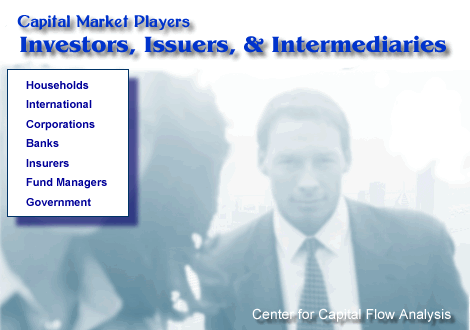 Flow of Funds Accounts For Market Players
The U.S. capital market is composed of seven broad categories of players that are described in twenty national flow of funds accounts, published quarterly by the Federal Reserve Bank.
Each player category has different goals and approaches to the market.
These players act as investors, issuers, and intermediaries in the capital market and control over $101 trillion in financial assets.
Each group has different goals and approaches to the market.
For each of these players, we publish color-coded flow of funds tables with definitions and links to related research resources.
Analysis of these flow tables is used to explain the forces of supply and demand that drive security prices.
Major Categories of Investors, Issuers, and Intermediaries
Holdings of financial assets by the seven major categories of players in Q4 2004 were as follows:
The links, above, lead to a description of each player category, official Federal Reserve sector definitions, flow of funds and level tables, and off-site research resources.