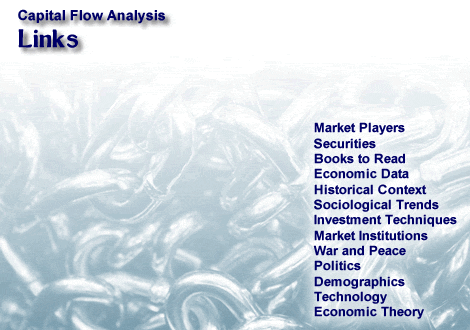 Investment Research Resources for Capital Flow Analysis
This site has over 2,300 links that may help explain capital flows that drive supply and demand in capital markets.
Links Where You Need Them
You'll find links distributed throughout this site, together with related topics.
For example:
To find statistics about commercial banks, click on the 'players' tab on the navigation bar. Then follow the 'bankers and brokers' tab to the page on commercial banks. In the right column you will find a 'resource sources' link that opens a page of links on 'bankers and brokers'.
The lessons in the training modules are supplemented with external links and book lists.
The Players or Instrument tabs lead to flow tables, research links, and books on that market sector or instrument.
The Five Horsemen
There are five special link pages on the exogenous forces that move capital markets — forces we call the 'Five Horsemen of the Investment Apocalypse' :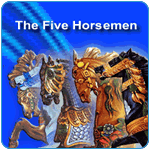 Links on five great forces that move markets
These link collections are designed to help the analyst keep up to date on these topics.
Suggested Reading
The capital flow analyst who says, like Will Rogers, 'All I know is just what I read in the newspapers', will not be successful.
Capital Flow Analysis requires knowledge of history, sociology, ethics, and market operations than is not usually available in the Wall Street Journal or the New York Times.
Political correctness and moral relativism have censored college book lists and gutted the ideal of a 'liberal education'.
To acquire the background required for Capital Flow Analysis, the student should consider a lifetime program of independent reading.
On this site we have listed books that may be useful in gaining a foundation in the historical, political, and sociological forces that drive capital markets.