Capital Flow Analysis of Federal Reserve National Flow of Funds Accounts
Capital Market Flow of Funds: Tutorials & Essays
Federal Reserve national flow of funds accounts show the types of issuers, investors, and market intermediaries that buy and sell securities in the U.S. capital market.
The national flow of funds accounts reveal where market players get their funds and how they apply their resources.
Flow of funds analysis explains investment market behavior and helps you determine whether current trends are likely to continue.

Investment behavior explained by flow of funds analysis
So as to quickly interpret trends in the Federal Reserve flow of funds accounts, we show you how to present easy-to-read, color-coded versions of the official tables, highlighting the actions of major players in the U.S. capital market. If you are looking to invest in other countries like UK, finding out the Best online broker uk is the first step you have to take.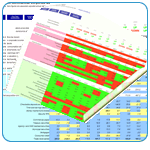 Color-coded tables simplify flow of funds analysis.
The tables on this site are examples of this colorful type of presentation and are supplemented by links to related web resources, official definitions, and informed commentary.
The tutorial shows how to color code flow of funds table so that they are easier to interpret. You can use this system when making presentations, or on your own website.
Up-to-date input for these tables is available without charge on the Federal Reserve website, under Release Z.1. When input into spreadsheets with programmed macros, the colored charts can be produced automatically.
Tutorials on interpreting investment flows
On this site, you'll find the most extensive tutorials on Capital Flow Analysis published anywhere. This is the leading educational site for flow of funds analysis as applied to securities markets.
Here you have a free, 30-lesson, professional-level course, complete with case studies, essays, and self-tests that help you master this valuable technique.
As you progress, you'll find that Capital Flow Analysis provides the understanding of underlying market forces that is essential for prudent asset allocation, risk management, and market timing.

Get the 'Big Picture' in 15 Minutes
For an overview of how you can use this information, start with the one-page summary: "Capital Flow Analysis in a Nutshell".
Next, read the two-page overview of the U.S. capital market, as shown in the Federal Reserve national flow of funds accounts, in the article: "Capital Flow Analysis: The Big Picture".
Finally, bookmark this site, browse a bit to understand the resources we offer, and plan to return. The material here cannot be covered in a single visit.

Keep Abreast of the Market With 'Capital Flow Watch'
To keep up on developments in Capital Flow Analysis and current analyses of the flow of funds accounts, check out Capital Flow Watch, our weblog.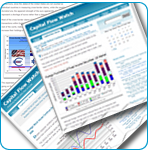 On this site, you'll find reviews and analyses of sectors and instruments from the Federal Reserve quarterly flow of funds accounts, using techniques of Capital Flow Analysis.
There are also essays and political commentaries on current market developments, based on flow of funds techniques.
Capital Flow Watch discusses events and regulatory events that are likely to effect supply and demand for securities and behavior of market players over the longer-term.
Sign up for a free email subscription to Capital Flow Watch, using this link, or subscribe to a free RSS feed here.